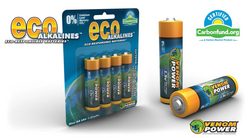 Today, Venom Power announced the release of its new Eco Alkaline™ batteries. These eco-responsible batteries feature:
Zero mercury
Zero cadmium
Zero lead
Zero carbon footprint, courtesy of Carbonfund.org's product certification program, featuring the first carbon neutral label in the US.
The Venom Power Eco Alkaline batteries have been certified carbon neutral after a detailed product life-cycle assessment. The assessment tracks carbon emissions, identified areas for emissions reductions, and offset the emissions that could not be avoided – like emissions generated in the manufacturing process. Venom chose to support our Paso Pacifico Return to Forest reforestation project. Validated by the Rainforest Alliance to the Climate, Community and Biodiversity Standards with Gold Distinction, the Return to Forest Project is helping to reforest as well as reconnect critical biological corridors along Nicaragua's Pacific coast. The project also brings economic opportunities to local communities while sequestering about 170,000 metric tons of carbon dioxide from the atmosphere. Venom's Eco Alkaline batteries are progressive, high quality consumer batteries with dependable performance. The batteries will begin shipping to retailers throughout North America during the fourth quarter this year. To learn more, please visit: www.venom-group.com. Read more about our product certification program here.