The Environmental Working Group released a new Meat Eater's Guide to Climate Change and Health that explains the relative benefits, both for health and for the environment, of eating more legumes and vegetables and less meat.  The report recommends some simple actions that everyone can take to reduce the impact of the human diet on the environment, and perhaps shed a few pounds and improve heart health along the way.  The main tenets of the report to achieve a healthier and more environmentally sustainable diet are very basic:  eat less and waste nothing; eat more plants; eliminate meat and cheese at least once a week, and substitute sustainably-fished seafood or poultry for beef or lamb whenever possible.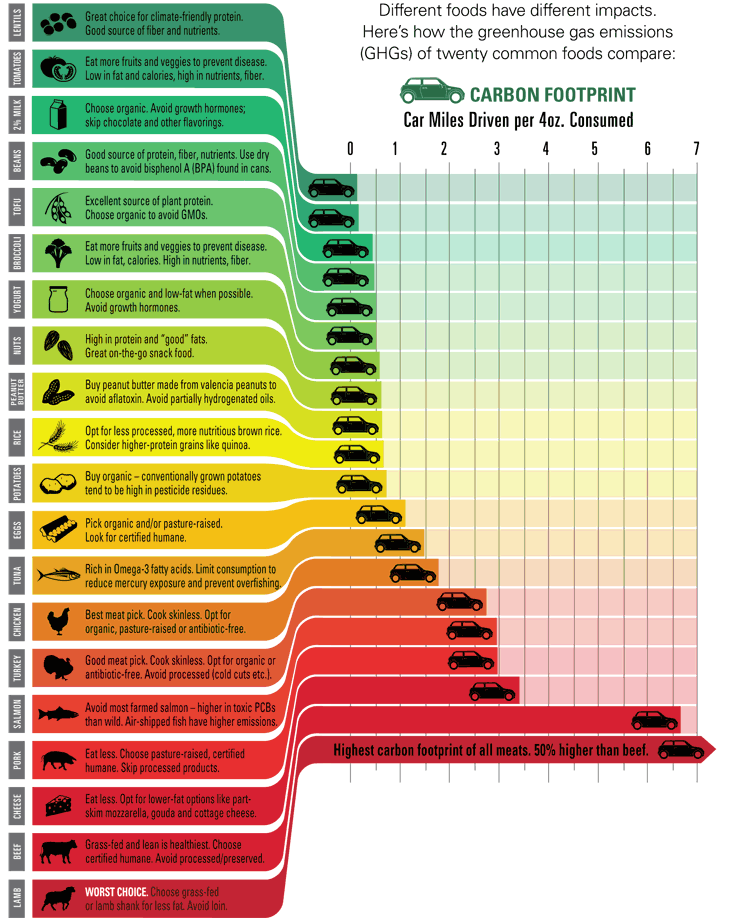 GHG data based on lifecycle assessment by CleanMetrics.  Click here to review the chart in detail.
One diet that rates highly in environmental sustainability is the macrobiotic diet, an ancient diet proven to be effective for healthful living.  Originally from Japan, the principle behind the macrobiotic diet combines tenets of Zen Buddhism with a Western-style vegetarian diet.  The word "macrobiotic" comes from the Greek and essentially means "long life" or "great life."  If you're drawn to the concept of eating a natural, organic, plant-based diet and embracing a Zen-like spirituality in both your life and food selections – and lowering your diet's carbon footprint along the way — then a macrobiotic diet may be for you.
But a macrobiotic diet requires time to prepare and diligence in sourcing the proper ingredients.  This time and effort requirement has made it difficult for many to pursue a macrobiotic diet lifestyle, until now.
CarbonFree® Business Partner Macro-Mediterranean Holistic Nutrition provides a simple solution – they offer nationwide meals home delivery service of their 100% vegan meals, incorporating traditional Mediterranean foods and spices, and utilizing macrobiotic principles of food preparation. And Macro-Mediterranean Holistic Nutrition has taken an extra step to enhance the sustainability of their operation by making the commitment to be a CarbonFree® business.  They're neutralizing all annual operational emissions while recycling and composting over ninety percent of the waste generated by production en route to becoming a "zero waste" company.
Delivery to the Boston area is free and they offer economical and carbon neutral shipping options to the rest of the country. 
"We have partnered with Carbonfund.org to help us achieve the goal of having a positive effect on the planet that sustains us by working with them to calculate our carbon footprint, and then donating in excess of that amount to help fund Carbonfund.org's carbon reduction projects that invest in renewable energy, energy efficiency, reforestation and avoided deforestation," explains Jeremy L. Hayward-Thomas, President of Macro-Mediterranean Holistic Nutrition.  "Through these donations, we try to do our small part to help support Carbonfund.org in their initiatives to reduce CO2 emissions at a global scale, and feel like this way our efforts can go beyond just what we could achieve on our own."
Evaluate the carbon footprint of your weekly diet and consider making some changes that will reduce the carbon emissions from your meal choices and may well improve your health along the way.